Thursday, 24 November 2016 18:37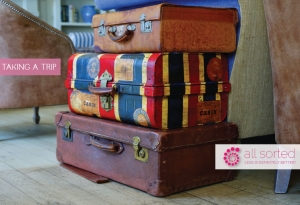 My grandmother travelled quite a lot and always made packing look easy. She only ever had two pieces of luggage, a small suitcase and a large handbag. Her number one rule was "Don't take more than you can manage on your own".
I thought you might find her packing tips useful! Here goes…
Before you start:
Wednesday, 22 June 2016 19:05
We are off on a roadtrip for two and a half weeks, and I am in the process of getting my lists together and checking that we have everything we need. I thought this would be a great opportunity to share with you how I get myself organised for a relaxed and happy holiday. We are crossing borders so this could be seen as 'international travel'!
What to pack:
#1: Take half as much clothing as you think you need, and twice as much money!!
#2: Make lists and tick off as you pack
#3: Have a checklist with you so that when you pack up again you don't forget anything!
#4: Important documents: