Wednesday, 12 September 2018 06:45
While I was growing up we moved every couple of years. With each move my mom would ruthlessly declutter and get rid of stuff she hadn't used or no longer wanted. My lasting memory of each of these moves was mom presenting each of her 4 children with 1 large moving box. We had to sort out our toys, books and stationery and could only take what would fit into our respective boxes. As a result, we never accumulated unwanted stuff and each move was relatively easy.
Fast forward 50 years to my parents' final move into a retirement home. Downsizing was easy, and decisions were made quickly and without too much stress.
Unfortunately, this is not always the case. Downsizing can be a stressful and anxious process for most Seniors, and choosing what to let go of and what to keep is often very difficult and emotional.
Here are 9 tips to make the downsizing process less stressful:
Start early. Sorting out a lifetime and a home full of memories will take time. Give yourself plenty of time ahead of a move to work steadily through your home.
Start easy: Start with items that have little emotional attachment and work your way to the more important items. I usually advise starting with linen, guest rooms, spare rooms and garages. This way you will ease yourself into the process and get used to letting go of things.
Eliminate whole rooms: If you are moving from a four-bedroom house to a two-bedroom cottage, almost everything in those extra spaces will need to go, so it shouldn't be hard to decide what to get rid of.
Toss duplicate items: If you have more than one of anything, pick one you like and use, and donate the other. Also consider whether you need the item at all.
Reduce your collections: If you have a number of collections it can be tough to get rid of them. I suggest you pick a couple of favourite pieces to keep and take photos of the rest, then let them go. That way you can remember your treasures without them taking up space.
Make yes or no piles—no maybes: Sometimes you will struggle over an item. Put it in a 'maybe' pile and move on. Come back to it later when you have had a chance to think about it, and where it would live should you choose to keep it.
Pass down special items: Now is the time to pass down sentimental or valuable items to younger members of your family. But be sure to ask them first!
Allow yourself time to reminisce: While you don't want to take too long to sort through everything, you should give yourself time to think about the memories and reminisce. It will be easier to move on if you do.
Hire a professional: Consider hiring a Professional Organiser who specialise in working with Seniors. They can help keep you on track, will do all the heavy lifting and clearing of cupboards, leaving you to make the decisions.
Possibly the best advice is to declutter on a regular basis (as my mom did), so that it is a lot easier when you get to that final move!
Any thoughts?
Thursday, 20 July 2017 06:12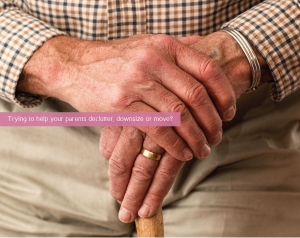 Having dinner at friends recently, we got talking about our parents and the challenges that go with growing older! One of our friends had been trying, without much success, to help her mom with the huge task of decluttering and letting go of years and years of accumulation.
"I get so impatient, I just want to do it without her"
"I don't understand why she wants to keep everything"
"Most of it is old and not even very nice. I would just throw it out!"
Children and family members are well meaning, but often do more harm than good. They don't have the patience to listen to the stories or pore over the memories. They are often too emotionally involved. Ultimately, they just want the job done as quickly as possible.
This is where an Organiser who understands and works with Seniors comes in.
A professional organizer who works with seniors will have lots of patience. They are willing to listen to the stories, look at the photographs and allow time to reminisce.
The organizer knows that getting organized will be a slow process. It took a lifetime to accumulate all of the possessions, so it will take time to go through everything.
The Senior needs an organizer who understands the physical limitations and adjust the length of an organizing session accordingly.
The professional organizer has to build trust with the senior client. It is hard to have strangers go through your things.
Senior citizens need to feel they are being treated with courtesy and consideration, and take time to listen to their concerns regarding the downsizing process.
A professional organizer needs to be able to communicate effectively with the Senior, as well as their family members and any caretakers involved.
Most importantly, our Mantra should always be "Do NO harm". We know when to slow down and when to back away
Don't wait until there is a strained relationship, or emotions run high.
Let the professional organizer do the hard stuff, and you get to do the fun stuff!