Thursday, 28 September 2017 05:33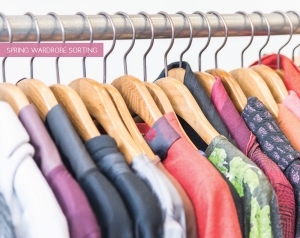 So you have decided to spring clean and this means your clothes too! I might covered some of these points before, but I think you will find them helpful if you are keen to sort your wardrobe.
Wednesday, 17 August 2016 21:05
We wear 20% of our clothes 80% of the time. That means that most wardrobes have way too much in them, and as a result we struggle to find things we would like to wear.
Take time to organise your wardrobe. Set aside a Saturday or Sunday and enlist a friend who will be ruthlessly honest with you.
Have a few boxes marked" Donations", "mend", "store" and "toss"
Take everything out and sort into categories – jerseys, tops, undies etc.
Now take one pile at a time and touch each item. Try on if you are not sure, and take a good look.
Ask yourself:
• When did I where it last? Will I wear it again?
• Does it fit?
• Do I still like it?
• Does it look good on me?
• Do I have things to wear with it?
• Does it need to be altered and will I alter it?