Wednesday, 24 October 2018 05:45
Can you believe it?
Christmas is just 60 days away! Christmas jingles ring out in all the shopping malls. Baubles and tinsel and stars and trees adorn shop windows. Before you know it, the holidays will be here! Friends, family, festivities, outings and traditions; so much to look forward, but so much to plan and organise.
I love Christmas with old family traditions along with a whole lot of new ones created over the years while our girls were growing up. I love Christmas pudding, a Christmas tree and Christmas lights. I love family gatherings and get-togethers. I love Christmas day with our South African version of Christmas lunch – delicious cold salads, turkey on the weber, and a gammon waiting to be sliced followed by an ice cream bomb with Christmas spices, watermelon, Christmas pudding and custard! Light summer dresses and bathing suits, dips in the pool and a nap in the shade when it all gets too much! Most of all I love spending time with loved ones and friends.
I don't like the chaos, the queues, the frenetic to-do list, the stress over menus and venues. I don't like the stress, the panic that sets in when it's not going according to plan. And so, I take time to prepare and organise well ahead of time so that it is truly a relaxing and wonderful time of the year!
Here is my 15-step checklist I work off every year starting now, and thought you might find it good to use.
START NOW!
Make a To Do list to take you through to the end of the year
Break it down into smaller lists - Food, gifts, cards, activities etc
Delegate tasks, and cheat where possible - buy your Christmas pudding, don't make it!
Set a budget. Know what you have to spend, allocate and stick to it.
Do half as much as you want to do.
How much is enough? Keep it simple
Spend twice the time and half the money
Resist the pressure of too many invitations, too many expectations
Schedule appointments and dates further apart to allow for holiday traffic
Set boundaries and say no sometimes
Think ahead
Take shortcuts, don't do too much
Remember one stunning dessert is better than a few average ones!
Take some ME time - small breaks just for you
I would love to hear about your tips for a more relaxed festive season…
Thursday, 15 December 2016 08:20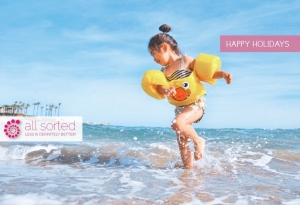 So another year draws to a close!
And what a year it has been. We have had a wonderfully busy year helping families get sorted and organised. A large part of our work has been assisting with downsizing and moving house for older clients, which is so rewarding.
In fact, we have faced challenges and circumstances beyond our control and managed to find solutions. There have been times we have laughed and had fun, and times where our clients have struggled with the changes. Each client is unique, and with each assignment we have learned new things.
Along the way there have been dogs, and cats, and birds, pet rats and hamsters and even a bearded dragon! Small children, new babies, teenagers and grown up children coming home to sort their stuff!
As I reflect on our business year, I am grateful for all the experiences and challenges we have faced. I am grateful for all the wonderful people we have met, all the pets and all the lives we have been involved in.
I am grateful that I have the good fortune of doing something I love day in and day out. It is a wonderful thing to wake up in the morning and look forward to a working day!
So to all our clients, to all our readers, to all our friends out there, thank you!!
Wishing you and yours HAPPY HOLIDAYS!