Wednesday, 22 January 2020 07:40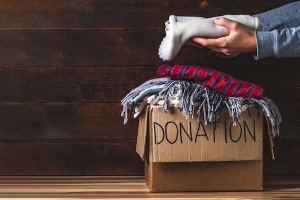 My work week is spent assisting Seniors in their homes. Sometimes it's about helping a Senior client declutter and reorganise their retirement home. At other times I am assisting with the downsizing and moving process to a smaller home. There is always a discussion on what to keep, what to throw away or recycle and what to donate. Here are some tips to help you when you are ready to do this:
Thursday, 26 October 2017 11:32
As a Professional Organiser I get to declutter spaces, pack up homes and move clients often. Whether our client is downsizing or not, we encourage a "clean out" before a move. It makes it so much easier in a new home when you only have what you need, use and love to start with. Most often there are discussions about selling or donating the items that are no long wanted.
This is the story of one of those clients.
Aunt M is an extraordinary person.
She is not a wealthy woman in monetary terms. She lived in a modest three bedroomed home, until she decided to move into a one bedroomed retirement apartment this week. The All Sorted team had the delightful task of assisting her with downsizing, packing and moving. I say delightful, because that's exactly how it turned out!
Although she was anxious about moving, Aunt M kept us entertained with stories, smiled the entire time and made copious amount of tea! All the while downsizing with gusto and letting go of her possessions, big and small. And the best part of all, it all went to charity! ALL OF IT!
There was no mention or thought of selling some of the more valuable items.
She kept saying "Let it go where it will make a difference."
"Let's donate it!"
"Someone needs this more than I do"
Always with a smile…
So much so that by the time we were done, more than ¾ of her worldly possessions had been donated. We packed 26 boxes to go to Aunt M's new flat, and 40 boxes and bags for charity! Most of her furniture went off to charity too!
This is the first time in 15 years as a professional organiser that we have sent more to charity, than to a new home.
Aunt M is an extraordinary woman, and wealthy beyond measure!